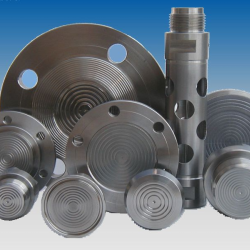 Used to measure the pressure of liquids and gases if it is not possible for the measured medium to penetrate into the gauge or transmitter measuring device.
This need arises where they occur:
Highly viscous liquids
Solid particulate fluids, sedimentary sludge
Hot liquids that solidify or crystallize when the temperature drops
Aggressive fluids
Requirements for perfect system cleanup
The solution consists in using a separating membrane and an inert liquid, that transfers pressure to the gauge or transducer measuring device.
We produce and repair many types of separators, different types of flanges and dimensions.